Expand the Circle: Honoring Barb Heine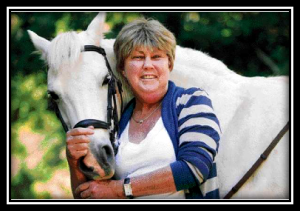 In 1988, Woodside, California was fortunate enough to gain a new resident who not only was an excellent horsewoman and physical therapist, but also an exceptional humanitarian and philanthropist. Barbara Heine would go on to spend 12 years of her life expanding the National Center for Equine Facilitated Therapy (NCEFT) and working to establish equine-assisted therapies as effective, medically recognized treatments for those with disabilities.
Thanks to Barb's tireless efforts, NCEFT is today an inspiration to the wider community and one of the nation's largest equine-assisted therapy (physical, occupational, and speech therapy conducted on horseback) programs—an organization forever principled by her knowledge, compassion, and initiative.

It is said that knowing Barb was a once-in-a-lifetime opportunity. In recognition and remembrance of her, and in celebration of NCEFT's Barb Heine Giving Circle for supporters who have given $5,000 or more, we offer this profile of her life and contributions to the discipline of equine-assisted therapy.

Born and raised in Melbourne, Australia, Barb Heine began riding lessons at age seven. In a span of 20 years of competitive riding, she won more than 2,000 ribbons in dressage, one-day eventing, and show jumping. As part of her Pony Club activities, Barb began teaching other young people to ride when she was only 14 years old. At 16, she broke and trained her first horse. Eventually, she became the chief instructor and examiner for the Pony Club Association of South Australia.
Barb majored in physiotherapy at the University of Melbourne, where she met and married John Heine. Among other ventures, the couple ran a sheep farm in Kangarilla in southern Australia and there raised three children: Marc, Kate, and Peta.
In 1975, a fall caused Barb to break her spine. While the injury prevented Barb from continuing many of her competitive horseback riding activities, it did not stop her from training riders and horses from novice to advanced levels in dressage and eventing.
In 1988, Barb's husband John moved his business to Menlo Park, California. Barb quickly established herself with a new project, buying two four-year-old thoroughbreds from the Bay Meadows race track. Along with spending two years training them, making friends, and learning the extensive Woodside trail system, Barb discovered NCEFT.
In 1990, Barb began volunteering four hours a week at NCEFT, and the roots of a new passion took hold. Although the field of hippotherapy was new to her, Barb quickly established her vision for NCEFT, imagining it as a haven for children with disabilities and their families, a place where they could work, laugh, and play just as families of typically developing children do.
As the years went by, Barb spent more and more of her time at NCEFT, volunteering as many as 60 hours a week to the organization and, in time, becoming the center's primary horse trainer, fundraiser, volunteer coordinator, director of physical therapy and, eventually, president and executive director—in fact, the heart and soul of the program as we now know it. Barb worked diligently to help others reach their potential, whether that meant the children she treated lovingly every day, the therapists and staff she trained, or the volunteers she encouraged. Barb's humor, sense of fun, wisdom, and respect for everyone are fondly recalled by those lucky enough to have been touched directly by her efforts. In 1993, Barb was the recipient of the North American Riding for the Handicapped Association (now PATH International) Volunteer of the Year award for Region 11.
Under Barb's leadership, NCEFT grew from serving roughly four patients a week to more than 80 and began accepting interns studying the incorporation of equine movement into the therapy plan of treatment. Today, NCEFT continues to thrive and currently helps about 125 children, adults, and military Veterans every week.
Barb was quick to grasp and emphasize the importance of contributors and volunteers to NCEFT, noting as we still do today that running the program would be impossible without an army of dedicated volunteers and an extensive fundraising effort. These fundamental activities provide financial scholarship to many participants and fiscal stability to the whole organization.
As an enthusiastic proponent of equine-assisted therapy, Barb was eager to see the therapies in wider use. In support of this, she served as the education chair for the American Hippotherapy Association (AHA, Inc.), was a founding member of the AHA Certification Board, and served as AHA President from 1977 to 1980. During her association with the AHA, Barb was instrumental in putting together coursework (the Level II and Long Lining courses), as well as in subsidizing an international scholarship fund that enabled therapists from Russia, China, Mexico, and elsewhere to benefit from AHA training. The videos that Barb created for AHA courses are still in use today. In honor of Barb's contributions and considerable equine skills, AHA established the Barb Heine Horse of the Year award.
The Heines returned to Australia in 2000, where Barb and her husband set up a charitable foundation to support foster children. Barb's commitment to equine-assisted therapy continued through her activities with the Riding for the Disabled Association of Australia. As part of her work in Australia, Barb developed a certification process for therapists, horse handlers, and hippotherapy horses. In 2001, Barb returned briefly to California to receive the Mounted Patrol of San Mateo County's Outstanding Horseman-Citizen of the Year Award (her second), recognizing her exceptional work at NCEFT. She also frequently returned to NCEFT to teach AHA classes, and her courses were always in great demand. In 2010, she received the Medal of the Order (OAM), an appointment to the Order of Australia conferring the Australian government's highest recognition for outstanding achievement and service based on nominations received directly from the community.
On March 30, 2010, Barb lost a battle with cancer, and our community lost a much beloved friend and advocate. In gratitude for Barb's immeasurable contributions and with our utmost respect and admiration, NCEFT inaugurated the Barb Heine Giving Circle for supporters who have given $5,000 or more to provide hope and healing to those with disabilities. While all of NCEFT's supporters play an important role, the Barb Heine Giving Circle is our way of recognizing those who, like Barb, make extraordinary contributions to our life-changing work.
To read more about Barb Heine and her contributions to NCEFT and the field of equine therapy, explore the following links: