Becoming a Therapy Horse
It takes a very special horse to become a part of the NCEFT herd. Our horses are working athletes that must be in top condition and excellent health. They need to posses a gentle and tolerant temperament. They must be willing to be led at the halter or guided from behind using long lines. They must want to do their very special job of safely carrying children as young as two and adults who are seniors.
Most of NCEFT's equine therapists (horses) are donated or leased, rather than purchased. Our horses work an average of five days a week for no more than four 30-minute sessions each day. Approximately every 9-10 weeks, our horses have 1-2 week breaks. Below are some criteria often used in determining whether a horse will fit into our programs. Please note, all horses under consideration for our programs must pass a 45-60 day on-site trial period before becoming permanent members of our therapy herd.
Horses should:
Have full and complete vision
Be healthy and in top condition
Be sound in all four legs with no history of chronic lameness
Have good ground, stall and handling manners
Fall between 7 and 17 years of age
Stand between 13 and 15.3 hands
Be capable of being ridden by beginners and children
Be comfortable with loud noises and quick movements
Accept novel items and environments (i.e. balls being tossed, bubbles being blown)
NCEFT does not accept gaited horses
NCEFT prides itself on providing outstanding care for each of its therapy horses. Horses receive:
Hay 2-3 times a day
Balanced feed at lunch with necessary supplements and medications
Daily exercise based on short and long-term training goals
Weekly group and/or individual turn-out
Periodic "vacations" with all-day turnout, each lasting 1-2 weeks
Exemplary vet (Bayhill Equine) and farrier care (Performance Horseshoeing)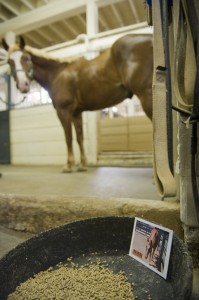 To submit your horse for consideration, please contact NCEFT Barn Manager, Marty Raynor, at barnmanager@nceft.org with a brief description of your horse (age, height, breed, training background, etc.) and 2-3 photos and/or video.  If your horse meets a current need in our program, we'll contact you to arrange an evaluation. Should your horse seem suitable, we'll ask to take him/her on trial to further evaluate their appropriateness for our program.
Thanks for considering placing your horse with NCEFT!