Dinner & a Movie @ NCEFT!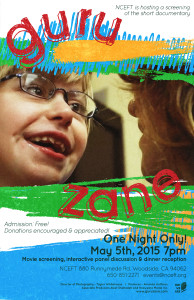 Join us Tuesday May 5, 2014 at 7pm at NCEFT for a screening of the moving and informative short documentary, GURU ZANE, about long-time NCEFT patient Zane Robinson. An interactive panel discussion will follow the screening. Hear from the movie's creators, Zane's parents and NCEFT Program Director, Chris Swan, Zane's physical therapist. This event is open to the public, and all are welcome.
Admission: FREE! Donations to NCEFT will be encouraged throughout the evening to support our SV Gives Fundraiser!
BBQ Dinner: Courtesy of The Boneyard Food Truck.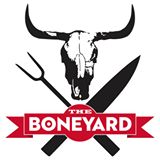 About GURU ZANE: Zane was diagnosed with Emmanuel Syndrome shortly after birth, one of only about 500 people diagnosed worldwide.  The film is a reflection of Zane's daily routine and challenges, as well as their impact on his family. Documenting life for the Robinson family over two years, GURU ZANE is an illustration of growth and love that demonstrates the most valuable lessons a family can learn from having a child with special needs.