Horses. Hope. Healing.
We provide a wide variety of unique and beneficial forms of treatment using horses and equine movement to children, adults, military Veterans, and First Responders with neuromuscular, cognitive, and sensory processing disorders. Our specially trained therapists and volunteers offer these programs and services year round. Our programs run Monday – Friday, 10a -5p.
Equine Therapy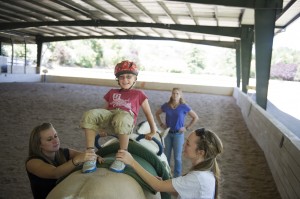 Equine-assisted therapy, sometimes known as hippotherapy (from the Greek word hippos, meaning horse), is physical, occupational, or speech therapy conducted on horseback. Equine-assisted therapy is not about riding a horse. Instead, licensed therapists use the movement of the horse as a treatment tool. Equine-assisted therapy sessions are medically prescribed by a doctor, and all our therapists are specially trained by the American Hippotherapy Association, Inc.  (AHA, Inc.).
Click here to learn more about Equine-Assisted Therapy
Adaptive Riding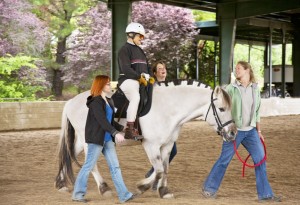 Adaptive riding instructors facilitate cognitive, physical, emotional, social, educational, and behavioral development through a unique combination of recreation, sport, and education. Clients focus on building riding and horsemanship skills while developing relationship bonds with their horse and instructor. Instructors are specially certified by the Professional Association of Therapeutic Horsemanship International (PATH International).
Click here to learn more about Adaptive Riding
Click here to learn more about which choice – equine-assisted physical, occupational, or speech therapy (hippotherapy) or Adaptive Riding – is correct for you or your child. 
For more information, introductory presentations about equine-assisted physical, occupational, or speech therapy (hippotherapy) and adaptive riding are available from the AHA, Inc.
Veterans Program

In partnership with local Veterans Administrations, we offer a variety of equine-assisted therapies to active duty and retired veterans, including those dealing with traumatic brain injuries and/or post traumatic stress disorder. This program is funded entirely by donations — at no cost to the participants or the federal government. Any Veteran coming to NCEFT can receive any of our services at no charge.
Click here to learn more about our Veterans Program
First Responders Program
The success of NCEFT's Veterans Program led us to question who else in our community might benefit from the treatment we offer. Who else is on the front lines, protecting us, just as our Veterans do? First Responders: fire, police, paramedics, EMT's, search and rescue, 911 dispatch, and others. Individuals who are likely to be among the first to be exposed to a scene of conflict, trauma, or disaster. A population that wears many different uniforms but faces many of the same challenges as military Veterans. NCEFT does not charge any First Responder clients fees for services, nor do we receive governmental funding. Instead, we rely on the generosity of our supporters to fund the entirety of the First Responders Program via donations.
Click here to learn more about our First Responders Program
Social Skills Group
NCEFT's Social Skills Group is a program for younger school-aged children who could benefit from social learning, including children with high functioning autism, Asperger's, SPD, and other undiagnosed social communicative difficulties. The Social Skills Group is presented by licensed therapists and utilizes a unique combination of social learning curriculum and hands-on animal interactions.
Click here to learn more about the Social Skills Group
Happy Trails Camp
NCEFT is proud to present Happy Trails Camp,  an outdoor summer day camp for kids of all abilities, aged 6 and up. Join us at Triple H Ranch, NCEFT's outdoor on-site camp facility, for a week of old-fashioned barn fun. Happy Trails Camp welcomes NCEFT patients with disabilities as well as their siblings (with or without disabilities). Together they will explore the great outdoors, discover the joys of horses and other animals, get creative with arts and crafts, and just get to relax and enjoy the summer.
Click here to learn more about Happy Trails Camp
Special Education School Programs
NCEFT offers programs for special education classes (both public and private schools), providing an outdoor farm experience to children with special needs. We are uniquely positioned to offer this outdoor education program in our safe and tranquil environment.
Click here to learn more about our Special Education School Programs
Other Equine-Assisted Therapy Programs
NCEFT partners with school districts, medical centers, and local nonprofit organizations serving people with special needs to provide specially tailored equine-assisted programs for their students, patients, and clientele. If you or your organization are interested in partnering with us, please email us with your inquiry!