Veterans Program
Our Veterans Program offers active-duty and retired personnel the opportunity to participate in any of our services at no cost. The program encourages physical and cognitive rehabilitation, providing Veterans with a safe environment in which to regain their independence, confidence, and strength. NCEFT receives no governmental funding (including from the VA) nor do we charge any Veteran clients fees for services. Instead, we rely on the generosity of our supporters to fund the entirety of the Veterans Program via donations. If you would like to make a commitment to support our Veterans, please donate today.
View the following YouTube video about the powerful benefits of equine-assisted therapy for our deserving Veterans:
Choosing a Therapeutic Service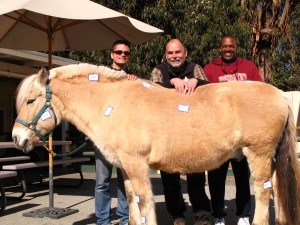 Equine-Assisted Therapy:  Equine-assisted therapy utilizes equine movement as part of a coordinated intervention program to reach functional goals in the areas of physical, occupational, and speech-language therapy (a treatment strategy sometimes called hippotherapy).  Individuals are accepted into our therapy program with a doctor's prescription and an evaluation from one of our therapists. Learn more about NCEFT's equine-assisted therapy program.
Adaptive Riding: Emphasizes the acquisition of riding and horsemanship skills, both on and off the horse, in an effort to achieve physical, emotional, and cognitive goals. Instructors are able to modify lesson plans to accommodate the needs of each individual, tailoring lessons towards specific short and long term goals.  Individuals are accepted into our adaptive riding program following an evaluation by one of our therapists. Learn more about NCEFT's adaptive riding program.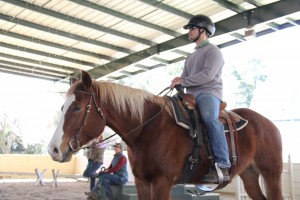 Adaptive Horsemanship: In partnership with local VA centers, students are organized into small group lessons consisting of other Veterans. Incorporating aspects of adaptive riding, each lesson includes on and off-horse activities designed to increase independence.  This program provides students with the horsemanship skills required to participate in horseback riding as a recreational activity. Individuals interested in adaptive horsemanship will be put in touch with a VA contact to coordinate program participation.
Lava Lake Ranch – a special adaptive horsemanship program.