2016 Spring Fling Riding Showcase
Our second annual Spring Fling Riding Showcase was again a rousing success! More riders, more horses, more spectators and more smiles!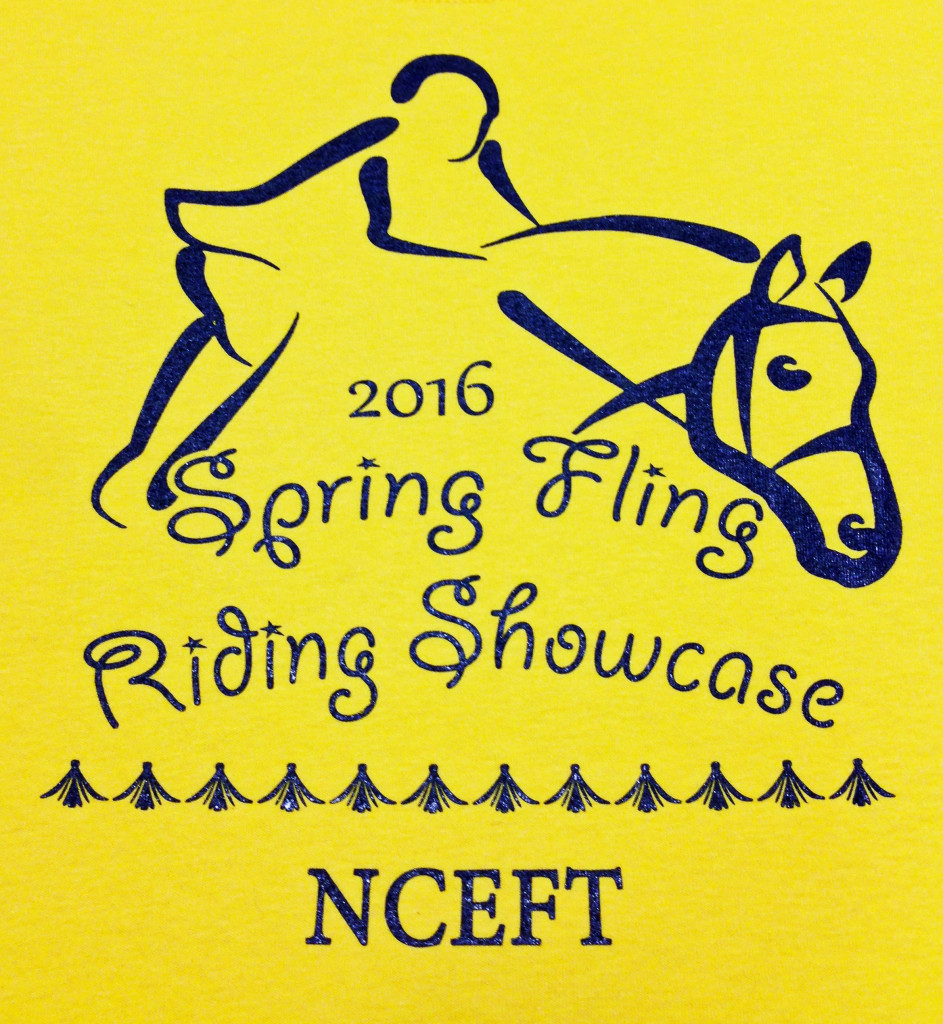 Twenty-five of clients each had a special time to show off their riding and horsemanship skills. Some rode English dressage tests, and others rode 2-point over poles and weaved through cones and bending poles. The students were beautifully turned out in formal riding attire, but the real beauty came from the ear-to-ear smiles of delight and accomplishment from each, as they received their ribbons after each ride.
The crowd enjoyed an exciting vaulting demonstration from the Woodside Vaulters. Eight young vaulters demonstrated compulsory, single and pairs vaulting on their beautiful horse, Spencer. Thank you to the coaches and members of Woodside Vaulters!
This wonderful day was made possible by the support and assistance of literally dozens of people. On behalf of everyone at NCEFT, we want to thank the following individuals and organizations without which this day would not have been possible:
Show Sponsors:  Pete & Lee Caraher, Susan Lang, Springdown Equestrian Center, Toto's Pizzeria, and Whole Foods Markets
Horse prep: Stanford Equestrian Team
Guest demonstration:   Woodside Vaulters
Show judge:   Oona Ziegler with assistance from Alex Brady
Photographer:   Jennifer Zweben
NCEFT Staff:  Cherie Hammer, Bonnie Sterngold, Heather Schilling, Chris Swan, Gari Merendino, Holly Wittman, Anna Lee, Audrey King, Alison Cook & Jim Scotto
NCEFT Barn Staff: Marty Raynor, Darrel Le Blanc, Wendy Funk, Tricia Seibold, Cori Moesta & Alexia Lerner
Volunteer Side Walkers: Gina Foti, Sarah Bryan Maroney, Alison Haazer, Susan Bosse Atwell, Ron Taillon, Cheryl Marelich, John Little & Jack McLean
General Volunteers: Kathy Dugan, Terri Williams, Zoe Hammer, Patty Waddington & Liam Nealon
Chief Man with the Clipboard:   Scott Seely